We are experts in providing sustainable, energy-efficient and eco-friendly Green Roofs, similarly known as Sedum Roofs, Eco-Roofs and Grass Roofs. With growing weather concerns and the cost of repairs sky-rocketing, Green Roofs give an evergreen, self-generating and weather-resistant answer sure to protect your home.Flat Roof Experts are known throughout Yorkshire as a trusted high-quality roofing solutions company.
Benefits of Green Roofs
From covering extensions and log stores to garden studios and offices, Green Roofs have a variety of uses. They help to moderate outside temperature changes and adjust your home's accordingly, making it warmer in winter and cooler in the summer. This lowers your energy bills.

Our Green Roofs are made from sedum plants, which we source locally from Illkley. Sedum plants are great at taking in carbon dioxide, removing the nasty pollutants and releasing the remaining oxygen back into the air. They also reduce surface runoff during those rainy days, easing pressure on drainage and sewage systems.

There are a huge number of advantages of using a Green Roof, including:

• Because of their durability, Green Roofs are low maintenance, requiring a check-up just once a year.
• Sedum plants not only add beauty to your house, but give insects, birds and other wildlife a place to call home.
• Extends the longevity of your original roof due to protection from rainwater, UV rays and snow.
• Reduces the effects of loud noise by providing a sound barrier for up to 18 decibels.

For the best protection, consider installing our EPDM rubber roofing first, providing an additional waterproof layer that will greatly benefit your Green Roof.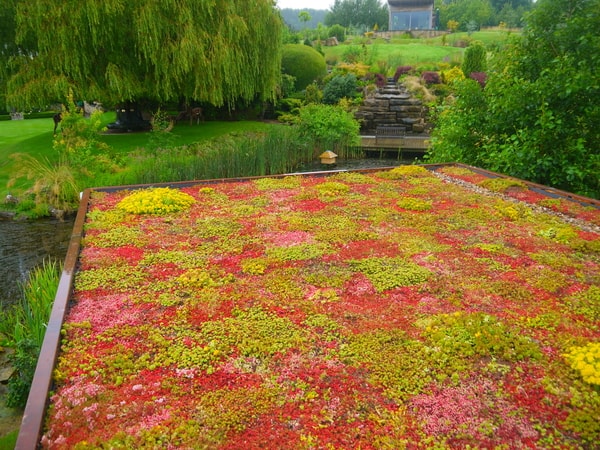 Why choose Flat Roof Experts for your Green Roofing
We are a family business, meaning we take pride in everything we do. We have a strong set of values that ensure we provide a friendly yet effective service that leaves you happy with the results. Our Checkatrade score of 9.9 emphasizes this.

To find out more about our Green Roofs, or any of our other roofing services, give us a call on 01274 737 828 and one of our friendly and knowledgeable team members will be happy to answer any of your queries.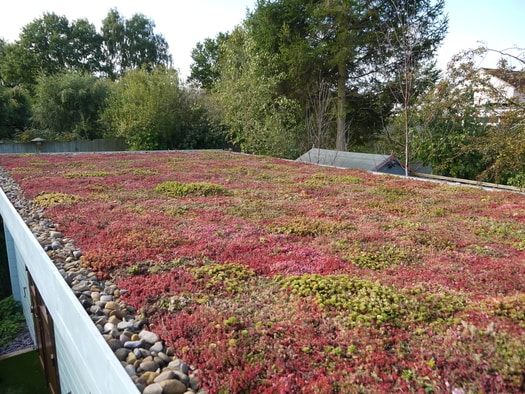 For any information regarding our roofing services
at Flat Roof Experts please contact us using the details below and one of our experienced staff will be happy to help.
contact us
get a quote